---
Latin GRAMMY Award winner Pedro Giraudo Tango Quartet represents the evolution of tango, from its roots in the traditional Orquesta típica, then to tango nuevo as epitomized by Astor Piazzolla, and now to a contemporary sound that respects the past and looks to the future. Pedro Giraudo, who has become an active cultural ambassador of this beautiful and passionate music of his native Argentina, brings something new and exciting to the form while retaining all the lushness and beauty of tango.
After two decades performing with the most important interpreters of tango, Pedro Giraudo debuted his own Tango Orchestra at Lincoln Center's Midsummer Night Swing and since then has become one of the most compelling tango artists worldwide. Among the many noteworthy events in Pedro Giraudo's career, in 2014 Pedro recorded bass on Ruben Blades' CD "Tangos", which won a Grammy and a Latin Grammy. He is also the musical director of Tango for All's "Blind", Mariela Franganillo Company's "Tango Connection" and "Tango Recuerdo," and performed with U.S.'s most prominent tango artists including Pablo Ziegler, Hector Del Curto, and Luis Bravo's "Forever Tango". [More in Bio.]
---
Check out our NEW RELEASE!
Click on the image to add "Impulso Tanguero" to your digital library!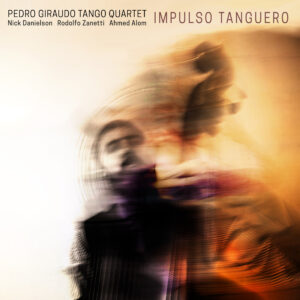 ---
---
Videos
---
Press
"His arrangements have the feisty footwork of Astor Piazzolla's up-tempo tunes." – The New York Times
"He is building a bridge between tango's glorious past and its even brighter future." Marco Cangiano, The New York City Record Review